News
We're hiring an investigative journalist
21st December 2020
The deadline to apply for this position has now closed. We are currently reviewing applications and will be in touch with successful candidates regarding the next stage. We received a large number of applications for this position and so, unfortunately, will not be able to reply to individuals who have been unsuccessful.
---
Contract: 12-month fixed term contract
Salary: £40,000 – £50,000 pa, full time. Hours may be negotiable for an exceptional candidate. 
Location: remote with the potential for working from a London office.
Closing date: 8th January 2021
---
About the Good Law Project:
Good Law Project's mission is to achieve change through the law. We defend, define and change the law to protect the environment, uphold democracy, and ensure no one is left behind. We are a young organisation with a great track record.
We are primarily funded by members of the public, through regular and one-off donations, as well as crowdfunded case-specific donations to cover the costs of our litigation. The Good Law Project is busier than ever and now plans to hire an investigative journalist to join the team to support our work exposing injustice and corruption.
About the role:
You will work developing stories on and around Good Law Project's portfolio of litigation. These will be stories arising out of that litigation – and on themes connected to that litigation. You will work largely on leads that Good Law Project generates.
You will be accurate in the facts reported, deliver new insights, and draw relevant conclusions that will help us influence the debate and turn up the dial on scrutiny. As part of a small, ambitious team you will be both proactive and reactive, digging into and working up engaging stories to help expose injustice and raise the profile of Good Law Project and its work with key audiences.
Key responsibilities:
Uncover and provide content to feature in high profile national print, broadcast, and online coverage.

Build relationships with relevant contacts and collect data from a variety of credible sources.

Interview professionals and compile their responses.

Write and edit content for joint bylines, in house publication, our website and press releases.  

Collaborate with fellow writers and editors. 

Provide briefing on key angles that emerge out of the information and documents uncovered in the course of our litigation. 
Desired skills and experience:
A minimum of three years' experience as a journalist, with a track record of success in contributing to or writing articles published in national press. 

Educated to degree level in English, journalism, or relevant field. 

Strong understanding of how news media works and knowledge of UK political landscape.

Proven ability to spot, tell, and write a story – alongside excellent attention to detail and accuracy.

Demonstrable experience of writing and editing high-quality written content and working on integrated multi-media content packages.

Track record of working under pressure in a fast-paced environment.

Highly organised, able to act on own initiative, and meet deadlines

Creative and confident in putting forward and discussing new ideas.

Capacity to work collaboratively and constructively in a small team.

Commitment to a high standard of professional behaviours, including collaboration, honesty and integrity.



We welcome and encourage applicants from all backgrounds and do not discriminate on the basis of age, disability (physical or learning), LGBT or relationship status, pregnancy and maternity, race, religion and belief, gender, or social class. We particularly welcome applications from BAME candidates and/or those with lived experience of disadvantage.
Here is the structure of the Good Law Project team: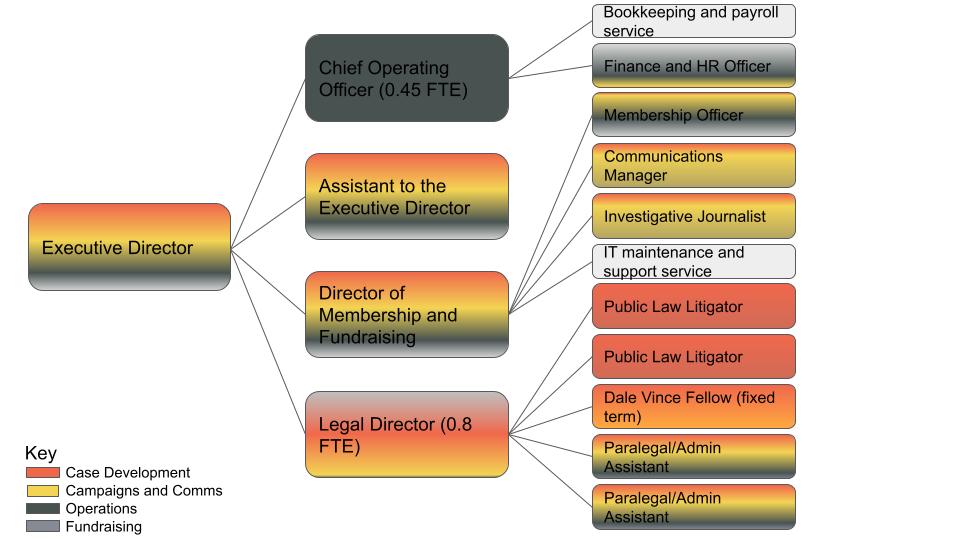 To apply for the role, please submit a CV and a cover letter, along with details of two references to [email protected], with the subject line 'Investigative journalist application'. Deadline is 8th January 2021. 
We are grateful to the Joseph Rowntree Reform Trust whose grant has funded this post.