News
We're hiring a Public Law Litigator
21st December 2020
The deadline to apply for this position has now closed. We are currently reviewing applications and will be in touch with successful candidates regarding the next stage. We received a large number of applications for this position and so, unfortunately, will not be able to reply to individuals who have been unsuccessful.
---
About Good Law Project
Good Law Project's mission is to achieve change through the law. We defend, define and change the law to protect the environment, uphold democracy, and ensure no one is left behind. We are a young organisation with a great track record and are now planning to hire a senior public law litigator to join the legal team to further develop our work principally in our 'no one left behind' workstream, addressing injustice, discrimination and inequality experienced by some of the most marginalised groups in our society. 
The role requires a qualified barrister or solicitor, who has considerable experience of running their own litigation, most likely through working recently in a senior role in private practice, and who has minimal need for supervision on day-to-day casework. 
Job description
Purpose: to identify and manage casework within Good Law Project's litigation portfolio, with a particular focus on the 'no one left behind' workstream. 
Reports to: Legal Director
Salary: £60,000 per annum with generous benefits
Hours: 35 per week, over 5 days
Contract type: permanent, after completion of 3 months' probation 
Location: Remote currently due to COVID-19; ultimately working in central London with some flexibility.
Responsibilities
Conduct of allocated casework, including instructing and working with expert counsel

Early development of new cases which create social value and address issues of injustice, discrimination and inequality, making recommendations to the Legal Director regarding their viability and merits

Identifying and working with partner organisations to achieve shared goals through strategic litigation
Person Specification
Specialist skills and knowledge:
Essential
Experienced public law litigator with a proven track record in complex litigation

Excellent legal research, writing, advisory and advocacy skills 

Strong creative and critical analytical skills, and an ability to grasp quickly new concepts and areas of the law with an openness to learning new ideas 

Confident working with and assimilating complex technical, commercial, political, and legal material

A demonstrable interest in issues of injustice, discrimination and inequality experienced by some of the most marginalised groups in our society
Desirable
Experience in litigation addressing issues of injustice, discrimination and inequality

Employment tribunal experience
General competences:
Commitment to a high standard of professional behaviours, including collaboration, honesty and integrity

Flexibility and adaptability in your attitude and approach to work, with a willingness to 'muck in' and support the team with whatever might arise, working towards a common objective

Strong organisational and administrative skills

Ability to set priorities in your area of responsibility and meeting (often tight) deadlines

Ability to proactively seek out relevant data to ensure the decisions you take are well founded

Ability to think through issues and problems, weigh up alternatives and prioritise actions based on evidence

Ability to look broadly, to see the whole picture and to see linkages and interdependencies which may not always be obvious

Willingness and ability to respond positively to changing circumstances and to support change 

Ability to foresee issues and problems and deal with them on a timely basis

Excellent attention to detail

Belief in own ability to get things done even in the face of ambiguity, and to be aware of, and sensitive to others feelings and opinions 

Self-motivated and able to take initiative

Good interpersonal skills

Knowledge of UK political landscape
Here's where the role fits into the Good Law Project team structure: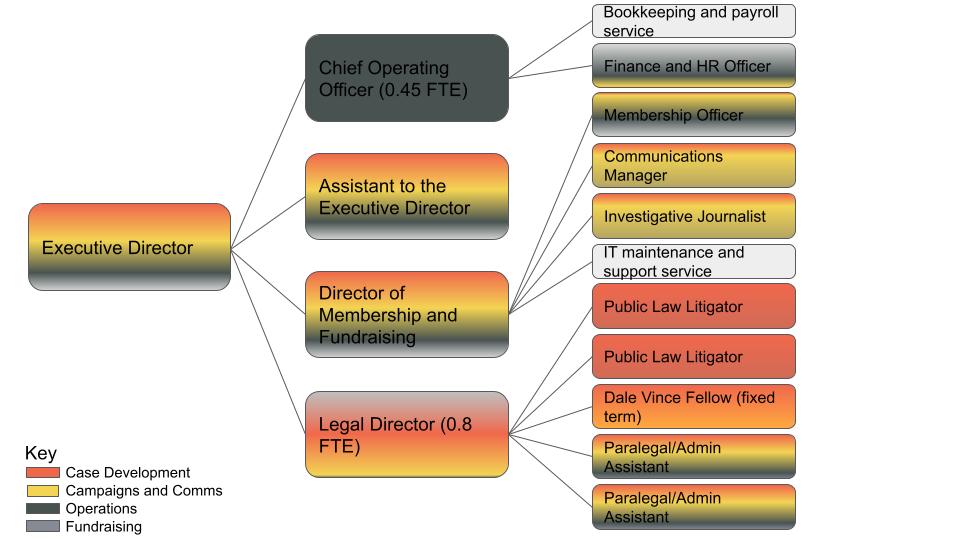 Deadline for applications: 11:30pm, 11 January 2020
To apply, please send us one 3-page document consisting of your CV (max one page) with a covering letter of no more than two pages outlining why you are interested in the role, and how you meet the requirements, together with the details of two referees to [email protected], with the subject line "Public Law Litigator". We intend to hold interviews via Zoom on 20 January 2020.
We welcome and encourage applicants from all backgrounds and do not discriminate on the basis of age, disability (physical or learning), LGBT or relationship status, pregnancy and maternity, race, religion and belief, sex or social class. We particularly welcome applications from BAME candidates and/or those with lived experience of disadvantage.