Case Update
BREAKING: Government misled public over existence of VIP lane for testing contracts
23rd September 2021
When we last shared evidence of a VIP lane for testing contracts, Government told the world our claims were 'completely false'. 
Today we can reveal astonishing new emails between civil servants that prove there was a VIP fast track to award testing contracts to firms favoured by ministers. Abingdon Health, the testing firm awarded £85m of contracts without competition, went 'through the VIP route'. 
And as you can see from this email chain, who was their Ministerial "sponsor"? None other than 'Lord Bethell'.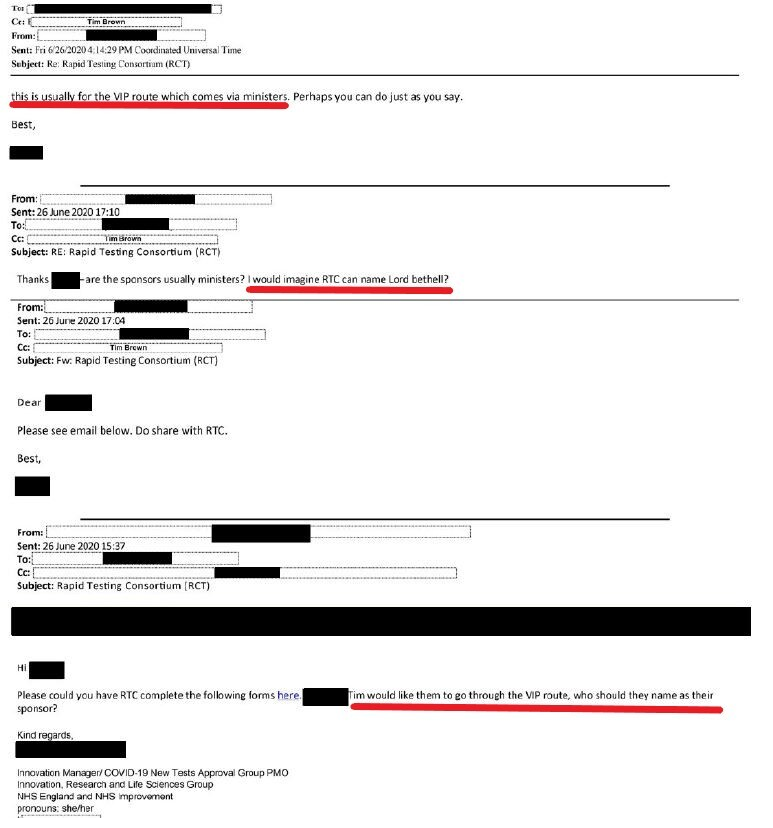 This is just extraordinary. Ministers issued a categorical and very public denial in June that there had even been a VIP route for testing at all. But this position is now untenable. 
Until this week Government had refused to search or disclose almost all of the documents of the four most senior individuals involved in our legal challenge over the £85m contracts… were they afraid of what they might find? 
The story of Abingdon Health is yet another example of the Government's failings on PPE and Test and Trace: lack of equal treatment for suppliers, lack of due process, and millions wasted as a result.
Government must stop misleading the public and come clean. £37 billion of public money has been set aside for Test and Test contracts – where on earth is it going?
We should not need to drag Ministers to Court to get an honest account. But make no mistake, if that's what it takes, that's what we'll do.
---
Good Law Project only exists thanks to donations from ordinary people across the UK. If you're in a position to support our work, you can do so here.