Case Update
Our Electoral Commission Challenge – Update
21st November 2017
We believe that, if you source monies from crowdfunding, and claim to act in the public interest, you should strive for transparency. That's why we're publishing the documents sent to us by the Electoral Commission yesterday. Even though they contend, wrongly we believe, that we are not entitled to.
You can read the Electoral Commission's pleadings (formally an 'Acknowledgement of Service') here AoS-Summary-Grounds-and-supporting-document.
You can read our claim form here Claim-Form and the accompanying witness statement by our director, Jo Maugham QC, here WitnessStatement.
A couple of points to note.
First, yesterday the Electoral Commission were suggesting that their decision to reopen their investigation had nothing to do with our judicial review.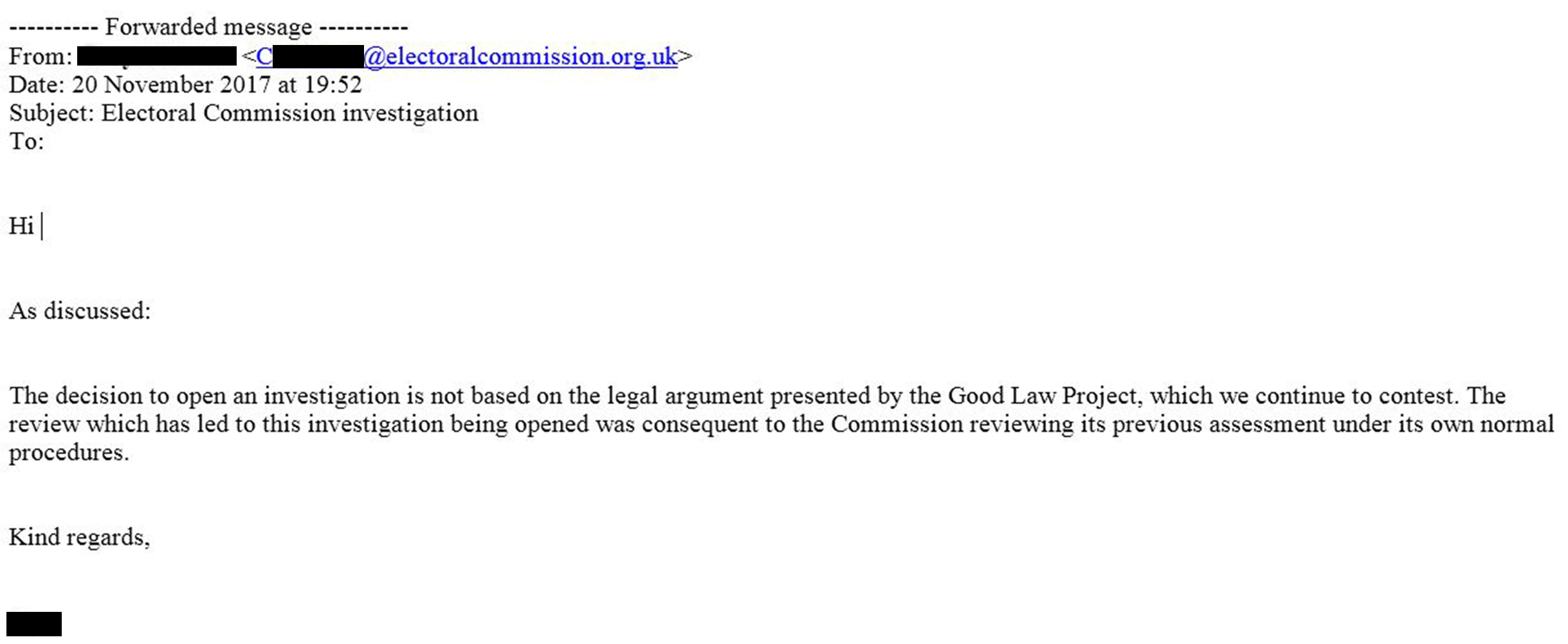 It would be a striking coincidence if they just decided to reopen their investigation on the day before they had to file their pleadings. But as this paragraph from the document attached to their pleadings shows, it was not a coincidence.
Second, yesterday, the Electoral Commission were suggesting that they were reopening their investigation in light of new information.

But the "Assessment Review" – which is attached to their Acknowledgement of Service and which you can read above – details at paragraphs 25-30 why they decided to reopen the investigation. And what they now rely on was already in the public domain – if you cared to look for it. It was mentioned in Jo Maugham QC's witness statement dated October which you can read above.
From these points we think it's reasonable to draw the inference that the reality is that the Electoral Commission failed to do a proper investigation last time around. And that, rather than admitting that fact, they are prepared to risk misleading the public that they exist to serve.