Vacancy
We're recruiting an Assistant to Jolyon Maugham QC
*Applications for this role are now closed.*
If you have already applied for this role, we are currently reviewing your application. Unfortunately, due to the high number of applications we have received, we may not be able to reply to all emails.  
If you are shortlisted for this position, we will be in touch to schedule an interview. We intend to hold interviews via Zoom on the 4th December 2020. 
Thank you for your interest in this position.
---
Good Law Project: Assistant to Jolyon Maugham QC
About Good Law Project
Good Law Project's mission is to achieve change through the law. We defend, define and change the law to protect the environment, uphold democracy and ensure no one is left behind. We are a young organisation with a ground-breaking track record and are now seeking to expand our staff team.
Job description
Purpose: to support the Executive Director with research, paralegal and administrative tasks, personal and professional, helping ensure our cases run smoothly and professionally.
Reports to: Executive Director 
Salary: £30,000 per annum, funded in part by Good Law Project Limited and in part by Mr Maugham personally
Hours: 35 per week, over 5 days
Contract type: permanent, after completion of 3 months' probation 
Location: Remote currently due to COVID-19; ultimately working in central London.
Responsibilities
Assisting Mr Maugham across the full range of his activities – legal and policy research, writing, and administration

Assisting with liaison with key stakeholders including Parliamentary staff, media, funders and others

General administrative duties, including e-filing, personal diary management, arranging calls and meetings, basic record-keeping and note-taking

General desk research and (to a lesser extent) specific legal research to support the ongoing casework of GLP

Proof-reading and some drafting under supervision

Other duties as reasonably required
Person Specification
Specialist skills and knowledge:
Essential:
Educated to degree level or above

Legal experience whether academic (e.g. this role could suit a law graduate or person who has completed a law conversion course) or professional (e.g. through previous working in the legal sector)

Excellent research, writing and verbal communications skills

A demonstrable ability to grasp quickly new concepts and areas of the law with an openness to learning new approaches, topics and skills

Good IT skills including mainstream applications

Good personal skills

Proactive and highly motivated 
Desirable:
Knowledge or experience in public law and other fields relevant to GLP's work;

Knowledge or experience in using a case management system.
General competences
Commitment to a high standard of professional behaviours, including collaboration, honesty and integrity

Flexibility and adaptability in your attitude and approach to work, with a willingness to 'muck in' and support the team with whatever might arise, working towards a common objective

Strong organisational and administrative skills

Ability to set priorities in your area of responsibility and meeting (often tight) deadlines

Ability to proactively seek out relevant data to ensure the decisions you take are well founded

Ability to think through issues and problems, weigh up alternatives and prioritise actions based on evidence

Ability to look broadly, to see the whole picture and to see linkages and interdependencies which may not always be obvious

Willingness and ability to respond positively to changing circumstances and to support change 

Ability to foresee issues and problems and deal with them on a timely basis

Excellent attention to detail

Belief in own ability to get things done even in the face of ambiguity, and to be aware of, and sensitive to others feelings and opinions 

Self-motivated and able to take initiative

Good interpersonal skills

Knowledge of UK political landscape.
Here's where the role fits into the Good Law Project team structure: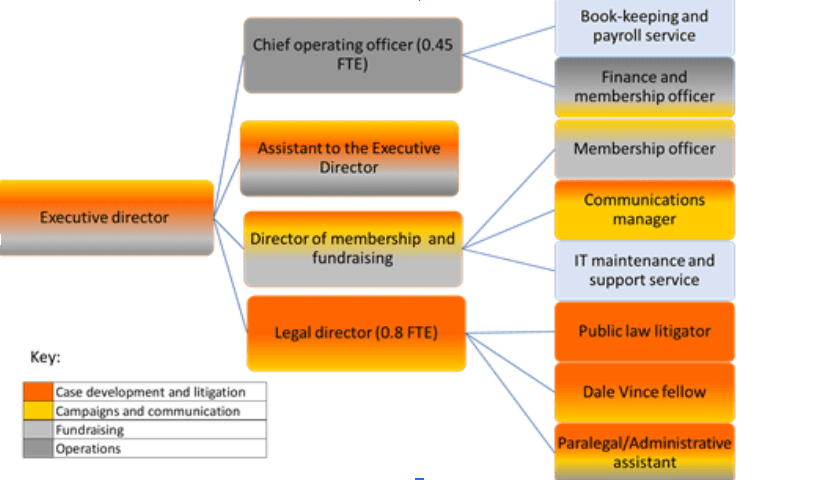 Deadline for applications: 11:30pm, 23 November 2020 
To apply, please send us one 3-page document consisting of your CV (max one page)  with a covering letter of no more than two pages outlining why you are interested in the role, and how you meet the requirements, together with the details of two referees to [email protected], with the subject line "Assistant to Jolyon Maugham". We intend to hold interviews via Zoom on 4 December 2020.
We welcome and encourage applicants from all backgrounds and do not discriminate on the basis of age, disability (physical or learning), LGBT or relationship status, pregnancy and maternity, race, religion and belief, sex or social class. We particularly welcome applications from BAME candidates and/or those with lived experience of disadvantage.